NEMA LI 1 (R1998) Standard REPLACED by the new ANSI/NEMA IM 60000-2021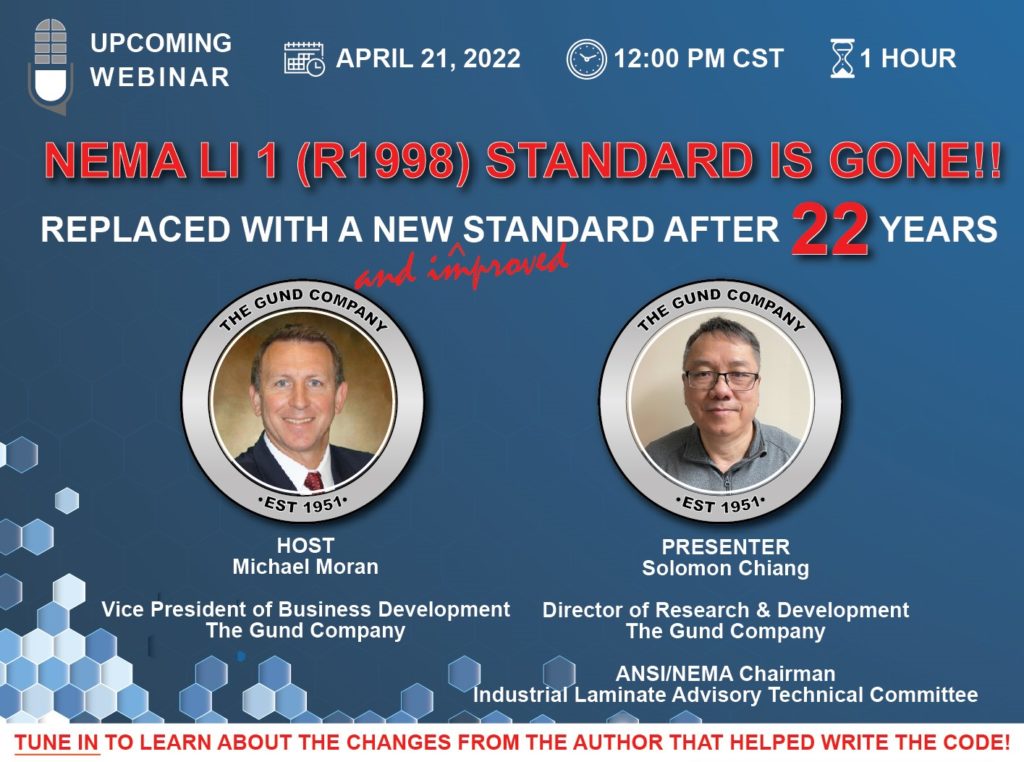 If you would like to view this webinar, click here to contact us.
After 22 years, the NEMA LI 1 (R1998) standard has been replaced by an improved standard called ANSI/NEMA IM 60000-2021 Industrial Laminated Thermosetting Products.
The new edition of the industrial laminate thermoset standard (ANSI/NEMA IM 60000-2021 ) is now in effect as of February 4th, 2022. Let us help you understand the new changes!
Tune in & listen to one of the authors Solomon Chiang, who chairs the ANSI/NEMA Industrial Laminate Advisory Technical Committee, talk about what's new and the critical updates. Not only are we the insulation experts, but we helped write the standard. Solomon is also The Gund Company's Director of Corporate Research and Development.
This new edition covers the manufacture, testing, and performance of laminated thermosetting products in the form of sheets, rods, and tubes. It also includes a new format that consolidates the requirements for the physical and electrical properties of the individual NEMA Grades.  It was developed by the NEMA Insulating Material Section and is published as an American National Standard. The new edition carries the tradition of adding new material grades to reflect the current and future needs of the industry. It also includes SI units (International System) for international audiences and compares to other international Standards. The new edition clarifies some potential ambiguities in the previous version to make it more user-friendly.
Webinar topics will include:
Composite Insulations and NEMA Standards for Industrial Thermoset Laminates
Types of Thermoset Resin and Substrate (Fiber) Used in NEMA Grades
Properties of Thermoset Laminates
Product Performance Optimization with NEMA Grades
New NEMA Grades, G-12, G-13, G-15 and GPO-5
Thermoset Laminate Processing Methods

About the Presenter, Solomon Chiang
Solomon Chiang is the Director of Research and Development for The Gund Company. Solomon is a recognized leader in the industry and currently chairs the ANSI/NEMA Industrial Laminate Advisory Technical Committee. He chaired a Working group in 2021 with the task to update the NEMA LI 1-1998 standard and seek ANSI (American National Standard) recognition. He is currently chairing another working group to update NEMA LI-6 1993. Solomon is also a technical advisor to IEC TC15 representing NEMA/ANSI.
With a Ph.D. degree in Chemistry, plus over 30+plus years of industry experience, Solomon leads The Gund Company Research and Development effort. He offers a unique and practical perspective on material selection and application problem-solving. He has helped many clients achieve performance improvements and cost efficiencies through countless R&D initiatives.