THE GUND COMPANY IS ONE OF THE WORLD'S MOST RELIABLE MANUFACTURERS AND FABRICATORS OF INSULATION MATERIALS FOR ELECTRO-MECHANICAL APPLICATIONS IN THE TRANSFORMER MARKET.
Even though the primary components (core, coil, leads, and others) are similar in the dry type transformer (DTT) and liquid filled transformer (LFT). The insulation can be quite different. DTTs mainly utilize safety-certified CSA and UL-recognized high-temperature insulation materials. In contrast, LFTs use oil and high dielectric strength cellulose-based insulation materials like paper, pressboard, and wood.  
The Gund Company manufactures a wide range of insulation components for the various transformer types. Our application engineering expertise can help our customers understand their insulation material selection and component design options, from large liquid-filled transformers to dry type distribution transformers to low-voltage electronics transformers.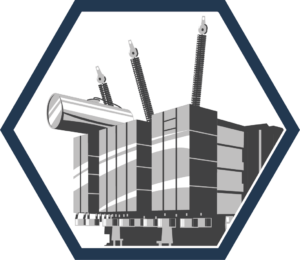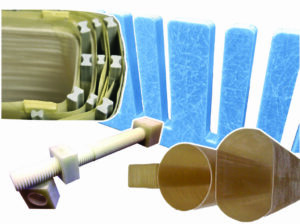 MOST FREQUENTLY USED IN APPLICATIONS WHERE THE USE OF DIELECTRIC OIL IN THE TRANSFORMER DESIGN IS NOT ALLOWED.
In contrast to liquid filled transformers that use dielectric liquids to insulate and cool the transformer's windings, dry type transformer designs must use higher-temperature insulation materials in order to operate without the use of cooling liquids.  Most dry type transformers in North America are certified to UL and CSA-recognized insulation systems.
The Gund Company is a vertically integrated manufacturer of these high-temperature insulation materials, including materials rated at 155 °C, 180 °C, and 220 °C that have explicitly been tested per UL 1446 for chemical compatibility with a long list of UL recognized insulation systems. The Gund Company offers a variety of insulation components for the following types of dry type transformers.  
LAYER WOUND, DRY TYPE TRANSFORMERS
Also known as barrel wound transformers, layer-wound transformers are most commonly used in low-voltage (<600v Class) applications. Layer-wound units are so-called because the coil is made by wrapping a layer of conductor around an insulated winding form and then wrapping a layer of insulation over the conductor.
The coil is built by wrapping a layer of conductor and then a layer of insulation in successive layers per the design. This design typically relies on high-temperature spacer sticks called "dogbones" to create the air-cooling passages. Between the primary and secondary coils, it is common to have a flexible insulation layer such as Nomex® or YT510 Aramid Paper or even a flexible glass polyester laminate such as Grade N200F or Grade FHT.
Filament Wound Core Tubes

Winding Forms 


Layer "Turn" Insulation

Layer Insulation Tape

Yoke Insulation

Coil Support Blocks

Wedges, Shims, & Filler
Lead Supports, Spacers, & Clamps

Fuse Boards

Terminal Boards

Lead Insulation – Sleeving

Phase Barriers

Enclosure Gaskets

DISC WOUND, DRY TYPE TRANSFORMERS
Compared to barrel or layer wound transformers, disc wound transformer designs are often designed for higher voltage applications. The conductor is wrapped around the coil in a fashion that makes the coil appear to be a series of stacked discs, separated by airflow gaps, giving disc wound transformers their name.
These units use either radial spacers or winding combs to form the conductor support and winding path around the coil while providing airflow gaps through the coil. These radial spacers and winding combs are made with high-temperature (130 °C, 155 °C, 180 °C, or 220 °C) glass polyester insulation material such as NEMA GPO-3, NEMA GPO-1 (Grades: N155, N180, N220, SG-200, or HST-II).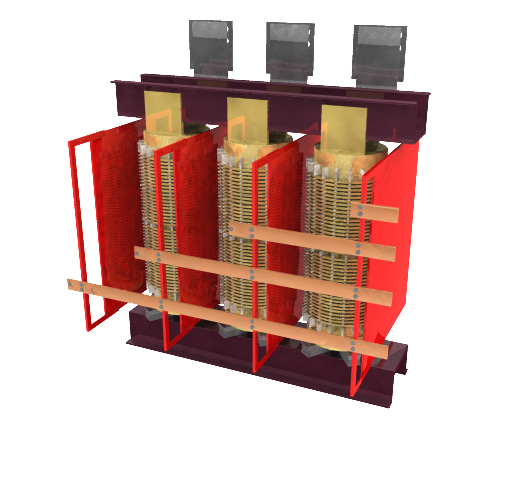 Filament Wound Core Tubes

Winding Forms


Conductor Wrap

Winding Combs

Axial Radial Spacers

Spacer Sticks "Dogbones"

Yoke Insulation
Coil Support Blocks

Wedges, Shims, Filler

Lead Supports, Spacers, & Clamps

Fuse Boards

Terminal Boards

Lead Insulation – Sleeving

Phase Barriers
In most designs, the vacuum molding process used to create the coils for cast coil transformers completely impregnates and insulates the conductors with a polyester or epoxy resin system. The cast coil design allows for higher short circuit strength and overload capacity.
Due to significantly different coil designs, cast coil units require various insulating components than other types of dry type transformers. Standard cast coil insulation components supplied by The Gund Company include saturated DMD, NMN/GMG, glass epoxy B-stage layer insulations, and "dogbone" spacer sticks.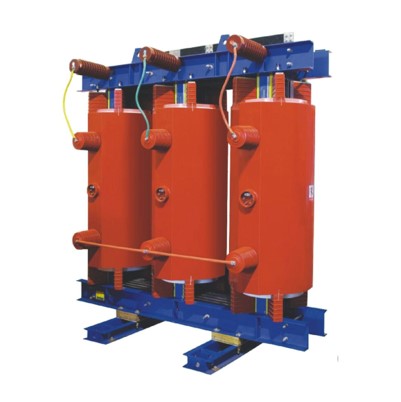 Layer "Turn" Insulation

Layer Insulation Tape
Coil Support Blocks
Lead Supports, Spacers, & Clamps
Lead Insulation – Sleeving
Using the term "electronic transformers," we intend to capture a wide range of low-voltage transformers commonly used in electronic equipment applications. These units are typically rated at less than 600 volts.
They are used in various applications, from current transformers to instrument transformers, to lighting ballasts. Other specialty magnetics also fall into this category, such as shunts and chokes. The range of electronic transformer types and applications is nearly unlimited.
Typical insulation material applications in electronic transformers include: 
Fabricated Winding Bobbins

Core Insulation

Layer Insulation

Layer Insulation Tape

Lead Insulation – Sleeving

Terminal Boards

Fuse Boards
Reactors have either iron core or air core construction. They help control quality by limiting load faults and surges or high-power lines.
In building substations near loads that could result in severe swings in power quality, reactors are employed. Reactors are often used in conjunction with capacitor banks to help control power quality. All air-core reactors have conducting windings that are wound much like a disc-wound, dry type transformer coil.
The Gund Company also offers a wide variety of Transformer Gaskets & Sealing Products for your upcoming project.
The Gund Company uses a "Dry Type Transformer Checklist" to help customers review materials,s, the process the process and component specifications. The checklist is also helpful for setting up kitting programs and vendor-managed inventory programs by transformer design. 
Contact our knowledgeable transformer material specialists today to learn more.

G-Flex™ is The Gund Company's brand of flexible insulation products. G-Flex™ product line includes aramid paper, flexible laminates, wire sleeving, felts, cordage and surge ropes, and insulating tapes.
The G-Flex™ is used in a variety of electrical applications. Some specific examples are transformer coil layer insulation, motor slot insulation, lead wire protection, insulation barriers, and numerous other applications.
Transformers
Motors 
Generators
LIQUID FILLED POWER TRANSFORMERS
Large units that are liquid cooled and commonly classified by their rated power as: small, medium and large power transformers.
Small power transformer typically starts around 10 MVA with a maximum service voltage of 145 kV. Medium power transformers range from about 30 MVA to about 100 MVA and commonly work as network and generator step-up transformers. Large power transformer usually starts at ratings greater than 100 MVA and voltages greater than 345 kV. The Gund Company supplies a wide variety of insulation components for the full range of power transformer designs and ratings.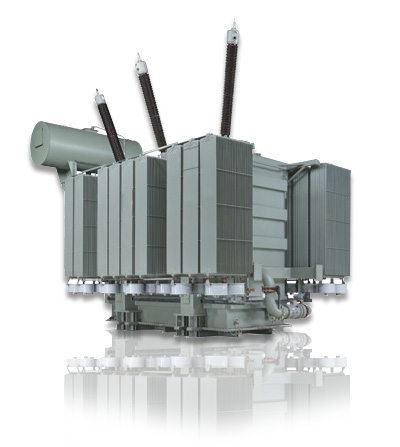 Core Insulation Kits
Step Blocks
Core Blocks
Fletch Plates
Core Filler Rods
Lead & Cleat Structure
Support & Yoke Beams Insulation
Fasteners (Rods & Nuts)
Winding Forms
Dovetail Strips
Key Spacers
Camping Rings
Coil Support Blocks
Washer Assembly 
Tap Changer Boards
Tap Changer, Filament-Wound Housings

Composite Core Cooling Ducts & Spacers

Lead Clamps

Lead Conduit Tubes
Tap Changer Enclosure Gaskets
Bushing Gaskets & O-Rings
Radiator Gaskets
Hand-hole and Man-hole Gaskets
Ranprex® Densified Laminated Wood 
Manufactured in Italy by Rancan, distributed and fabricated in North America by The Gund Company.
For more information on our laminated densified wood material for the Electrical Oil Immersed Power & Distribution Transformer, please click here.
LIQUID FILLED DISTRIBUTION TRANSFORMERS
The most common are pole-mounted or pad-mounted. Pole-mounted distribution transformers are named so because they are mounted to utility poles in older urban or rural areas.
Most distribution lines are buried underground in suburban areas built within the last few decades, so transformers are erected on concrete pads in residential, commercial, or light industrial applications. The Gund Company manufactures and fabricates a variety of insulation material solutions for distribution transformers.
Layer Insulation
Layer Insulation Tape
Core Step Blocks
Coil Supports
Hardboard Coil Packing & Shims
Phase Barriers
Ground Barriers
Sight Window Barriers
Lead Supports, Spacers & Clamps
Fuse Boards
Fuse Tubes
Tap Changer Boards
Enclosure Gaskets
Bushing Gaskets
O-Rings
Common Flexible Insulation Materials in Distribution Transformers
Flexible Insulation
Kraft Paper

Diamon-Coated Kraft Paper

LFT Paper

Crepe Paper

Duct Paper – Stick Paper

Vulcanized Fiber (Fish Paper)

YT510 Aramid Paper (High Temperature)

Click here to view additional material datasheets.