THE GUND COMPANY IS A VERTICALLY-INTEGRATED MANUFACTURER AND FABRICATOR OF ENGINEERED MATERIAL SOLUTIONS. THE PARTS WE FABRICATE FOR OUR CUSTOMERS ARE OFTEN INTRICATE AND REQUIRE SOME ASSEMBLY.
The Gund Company offers assembly services to help minimize costs, maintain quality control, and finish the job on time. Our services allow customers to utilize The Gund Company's expert production staff to ensure the fabricated parts are ready for installation on your equipment.
Our services allow customers to save space and time by outsourcing the assembly of components so the fully-assembled component can be delivered ready for installation. The Gund Company consistently ranks as an industry leader in quality and on-time delivery. To learn more about the metrics we use to grade our own performance, click here.
COMMON ASSEMBLY SERVICES INCLUDE:
Bonding

Bolting

Riveting

Tapping

Dowel Pinning

Press Fitting
Assembly & Final Painting / Varnish

Lap Joint Bonding

Taping or Bonding

Laminating

Custom joining or other assembly services are available upon request.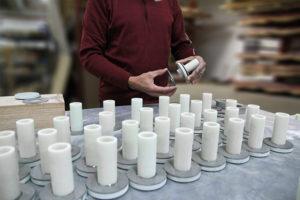 EXAMPLES OF ASSEMBLY SERVICES INCLUDE:
Assembly of arc chutes for circuit breakers

RFI shielding assemblies bonding conductor foil to insulation

Insulated copper studs for power-generator applications

Fuse board assemblies for distribution

Adding connectors and contacts to terminal boards

Door panel assemblies for refrigerated or thermal applications

Installation of gaskets, seals, or O-rings

Lap-joining long supports

Taping coil blocking together

Adding hardware components to your parts.