THE GUND COMPANY UNDERSTANDS THE DEMANDING OPERATING ENVIRONMENT OF POWER TURBOGENERATORS AND THE SCHEDULING CHALLENGES ASSOCIATED WITH GENERATOR REWIND PROJECTS.
Our generator application and engineering teams have years of experience solving generator insulation and schedule challenges. RotoGuard® has been used by repair and OEM customers for over 20 years and is the primary insulation found in more than 500 fields in service today.
The Gund Company's aerospace manufacturing process results in the production of high-quality slot armor. RotoGuard® is the most uniform and consistent slot insulation commercially available today. The result is a series of high-quality generator insulation products that save installation and schedule time and help prevent premature failure.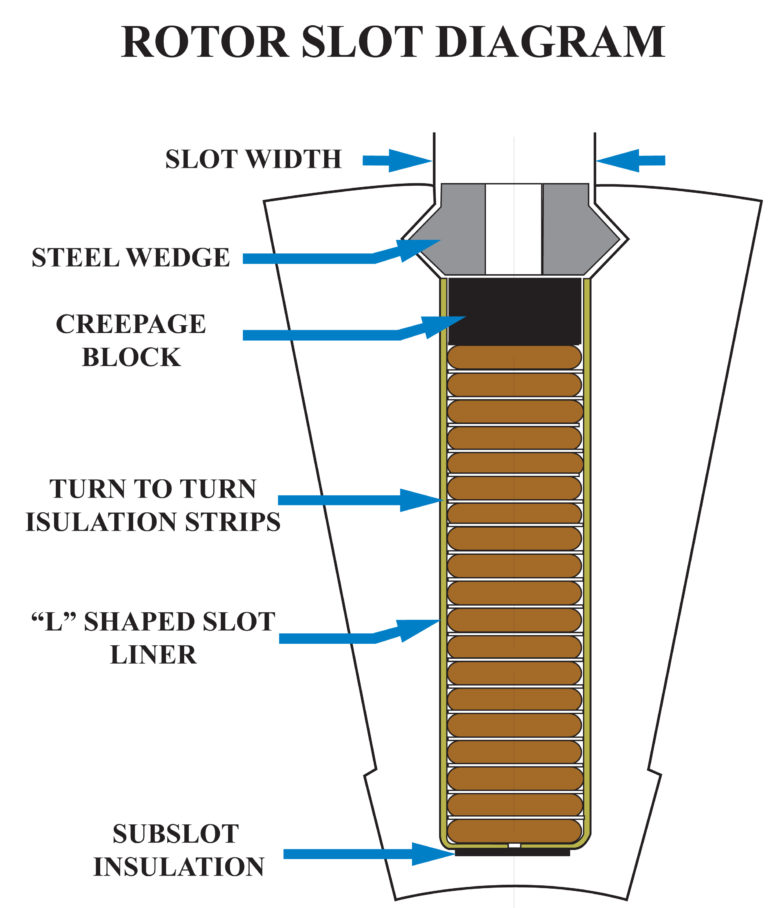 ROTOGUARD® SLOT LINER – SLOT ARMOR
Slot Armor that contains voids and other defects can lead to premature failure, resulting in an emergency, unplanned outages, or rework. The Gund Company's aerospace manufacturing method produces RotoGuard® Slot Armor, the most consistent and uniform slot insulation commercially available today.
RotoGuard® Slot Armor is available in five standard configurations and various custom configurations to meet customer specifications. Each part is 100% inspected for quality and continuity and can be hipot tested up to 20 kV.
Common Shapes include L's, U's, step, club foot, and specialty shapes available upon request, 
ROTOGUARD® EG – TURN INSULATION
RotoGuard® TIB* is a pressure-sensitive epoxy adhesive that can enhance the performance of RotoGuard® EG, Nomex® 410, G-Flex™ YT510 and other insulation materials. RotoGuard® TIB bonds to copper with excellent shear strength at room temperatures and up to 160°C.
This turn insulation adhesive offers distinct advantages over traditional b-stage epoxy turn insulation. The superior tackiness of our TIB eliminates the time, labor, and material cost associated with using additional adhesives, such as double stick tape and messy resins. Its 4-hour, 110°C epoxy adhesive cure time shortens outage and rewind project duration.
Turn insulation coated with RotoGuard® TIB has undergone tensile shear strength testing (crosshead speed 0.15 in/min.) and produced results exceeding 100 psi (0.69 MPA). RotoGuard® Turn Insulation, equipped with RotoGuard® TIB adhesive, can be peeled up and re-applied to ensure proper seating and copper alignment. RotoGuard® TIB from The Gund Company is a Class F insulating material (meets 155 °C) when cured. The Gund Company custom fabricates corner strips, J-strips, and vented insulation for a complete slot insulation kit.
Availability: 36" Wide Rolls
Available Thickness: 0.005" (0.13mm), 0.007" (0.18 mm), 0.010" (0.25 mm) & 0.013" (0.33 mm)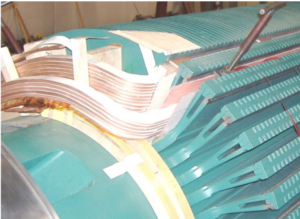 Slot Insulation Kits
Slot Cells

Sub-slot Insulation

Turn Insulation / Layer Insulation / Coil Insulation

Slot Caps
Full Rotor Kits
Slot Cells

Sub-slot Insulation

Turn Insulation / Layer Insulation / Coil Insulation

Slot Caps

J-strips / End Turn Insulation

Creepage Blocks

Top Filler

Rotor Blocking

Retaining Ring Insulation