Elastomeric Materials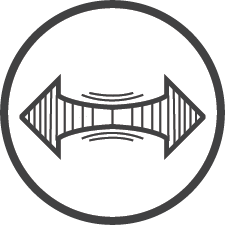 An elastomeric material is any material exhibiting elastic or rubber-like properties. Generally speaking, elastomeric materials are measured in material type, compound, and durometer (the hardness of the material). Since there are such a wide variety of elastomeric materials, the application is critical to understanding the best material compound for the job.
Foam / Sponge
Foam and Sponge are generally grouped together, and regarded to be in the same family of elastomeric / plastic materials because they exhibit the same cellular structure. Additionally, they are commonly listed under similar industry specifications (ASTM, MIL, UL, FMVSS, and others).
Foam is a lightweight, open cell product that is typically used for insulation, filtration, and cushioning. Generally speaking, these cellular materials are low density to allow air movement through the cell structure. In addition to the legacy applications for traditional foam, high-density foams have been developed for fluid sealing applications. In contrast, higher density foam products will have a higher concentration of cells. Medium and low-density foams will have a lower concentration of cells.
Sponge is an expanded, rubber based material. Sponge can be processed in multiple material formulations (different compounds, densities, as well as open and closed cellular structures). The cells are not connected, which keeps the material from absorbing and retaining liquid. Compared to foams, sponges are considered to have superior mechanical properties.
Both Sponge and Foam are available in sheets, rolls, and molded or extruded shapes. They can be ordered with or without 'skin' and PSAs (pressure sensitive adhesive) as needed.
COMMON BRANDS: Rogers, Monmouth, Armacel, K-Flex, Rubatex
COMMON TRADE NAMES: Poron, Bisco
COMMON USES: Filtration, Insulation, Cushioning, Sealing
To learn more about foam and sponge material from The Gund Company, or to request a quote for your application, Contact Us Today!
Rubber
Rubber is often referred to as a "solid elastomeric." Generally speaking, the two most common types of rubber are natural and synthetic. Natural (gum) rubbers are derived from the rubber tree. Conversely, rubber-like materials that are produced from sources other than the rubber tree are commonly referred to as synthetic rubber.

Though there are currently more than 36 synthetic rubber compounds available, not all are commonly used. Rubber compounds have been researched, developed, and engineered to meet many application requirements, including fluid, temperature, and pressure resistance. Many synthetic rubber materials are also available with different degrees of reinforcement such as cloth inserted (CI) of fabric reinforced (diaphragm). These materials are designed specifically to meet a variety of customer applications.

COMMON TRADE NAMES: Neoprene®, Silicone, Viton®, EPDM, Nitrile, and many more.
COMMON USES: Gaskets, Diaphragms, Chute Lining

To learn more about rubber elastomeric materials from The Gund Company, or to request a quote for your application, Contact Us Today!
O-Rings
O-rings' primary functionality are to create a barrier between two items where air or fluid may escape. They are typically installed in a groove to hold them in place while they are squeezed between two opposite surfaces. In most cases, O-rings are sized using the inside diameter (ID) by Cross Section (CS). O-rings are particularly effective because they have memory and want to expand to their original size and shape. So, compressing them between two opposing surfaces creates an air and/or fluid tight seal. O-rings are available in a variety of natural and synthetic rubber compounds. Depending on the application, the material chosen can have a significant impact on the functionality of the O-ring.
Though they are a common commodity, choosing the proper O-ring for the application can be challenging when considering thermal resistance, and degradation from fluid and gasses. Additionally, there are several standards for O-rings worldwide. The most common standard for North America is: AS568. We understand the various mechanical properties of o-ring materials. Contact one of our material specialists today to review your applications or request a quote.
EMI Shielding / Thermal Management
EMI Shielding and Thermal Management are generally grouped together. They are commonly listed under similar industry specifications.
EMI Shielding: Electromagnetic Interference has become far more significant in recent years as the use of electronics devices continues to increase. As the utilization of these devices continues to grow, so does the exposure to a wide range of frequencies. Through years of research and development, manufacturers have determined that electrical insulation, enclosures, and cables have proven to be effective ways to contain these frequencies.
Organizations such as the CE & FCC have provided guidelines in the form of legal requirements to prevent electromagnetic interference (noise). As such, EMI Shielding has become a necessity in the electronics industry. Since there are a wide variety of application designs and frequency requirements, a variety of materials have been developed to provide adequate shielding.
Thermal Management: Historically, thermal grease was used in applications to create continuity between power sources and heat sinks. Unfortunately, this grease was not ideal in applications where ease of installation and cleanliness were paramount. These days, many applications utilize thermally conductive materials or thermal management in place of this grease.
Thermally conductive compounds contain fillers that maintain flexibility in service while providing the continuity between the mating surfaces. In electronic equipment, air acts as an insulator, and must be eliminated for optimum performance. Manufacturers of electronic devices want to establish an anaerobic environment to allow continuity between the power source and heat sink for proper performance. As such thermal management products create continuity within the component to optimize the heat dissipation from the power source.
Thermal management products are used in an expansive list of applications. As such, there are an equally wide variety of thermal management options available.
The Gund Company is well versed in both EMI Shielding and Thermal Management Contact one of our material specialists today to review your applications or request a quote.
Cork/Rubber
Cork & rubber products are especially useful in metal-to-metal joints. No allowance need be made for the side flow if a material of the proper firmness is selected. The compressibility of cork-rubber can be used in place of more expensive non-compressible rubber seals. Some of the friction of cork is retained in these products and helps to reduce extrusion and slippage.

Cork/rubber products can contain sponged materials which more easily conform to and compensate for minor flange irregularities. This characteristic is especially useful in stamped or other lightweight assemblies where the available bolt spacing and bolt load is usually low.

Cork/rubber products have an unusual resilience which helps resist compression set and other effects of fatigue. Cork-rubber seals are more resistant to aging than traditional rubber compounds.

Cork/rubber compounds are used to establish and maintain intimate contact between the flanges. The most common synthetic rubber compounds are Neoprene® and Nitrile. However, special applications may use cork material blended with Hypalon®, Silicone, Fluoroelastomer, SBR, or Vamac.

To learn more about cork/rubber material from The Gund Company, or to request a quote for your application, Contact Us Today!

Visit our material datasheets Section for more information

The Gund Company is a vertically integrated manufacturer and fabricator of engineered material solutions. Since 1951, we have listened to our customers and learned about the demanding operating environments of their industries. We are AS9100D Certified and ITAR Compliant. Our custom fabricated parts are manufactured according to ISO 9001:2015 certified quality systems.

We understand the challenges of material selection and the demanding operating environment of your application. Our Application Engineering Team takes a consultative approach to understanding your requirements. By relying on our material specialists, our customers gain valuable insight into how to improve component designs to increase efficiency and functionality while reducing cost. In addition to helping with material selection, we challenge ourselves to optimize production for material yield or fabrication efficiency. As a lean enterprise, we are focused on continuous improvement and finding the most cost-effective, efficient solutions for our customers.

Please contact us today if we can help answer material property questions or provide an application specific quote. Thank you for the opportunity to earn your business.