The Gund Company manufactures custom-engineered materials with state-of-the-art fabrication capabilities. Found in automotive, eVTOL, and recreational applications, our composite, thermoplastic, and elastomeric materials serve as a solution in various areas. The Gund Company can provide short lead times on prototypes while also offering material selection guidance and collaboration.
Battery Applications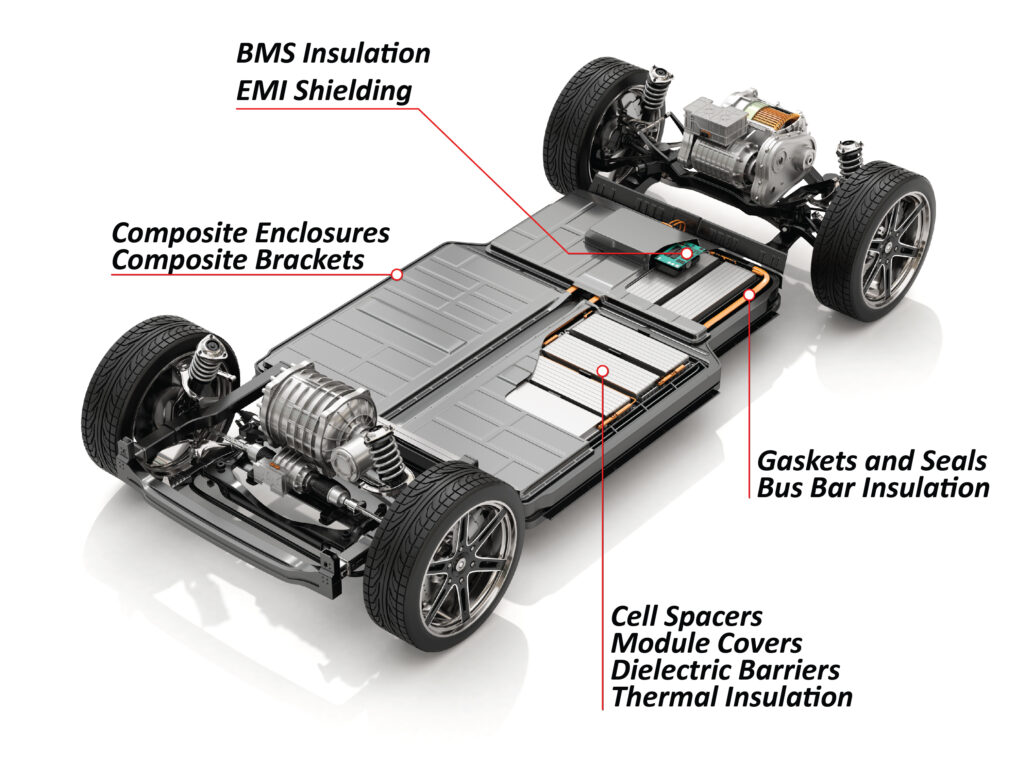 The Gund Company understands the challenges associated with designing a low-profile, lightweight, and high-capacity battery while also mitigating issues that could lead to safety concerns. We offer materials for thermal and electrical insulation, sealing, EMI shielding, and structural composites to help our customers overcome challenges discovered while designing an optimal battery.
Composites

The Gund Company manufactures custom molded composites for battery packs, endplates, and bracket applications. Our molding and additive manufacturing capabilities allow us to provide a custom solution to ensure our customers achieve the best performance possible.

Benefits

SMC molding for rapid production of custom-designed high-strength composites
Significant weight savings over traditional materials such as steel and aluminum
Naturally insulating and non-corrosive for a longer-lasting, cooler battery

Insulation

Thermal and electrical insulating materials from The Gund Company help dissipate heat and prevent thermal runaway or dielectric breakdown.

Benefits

Films and plastics protect while reducing weight and space requirements.
UL94-V0 rating extinguishes flame for use between cells and within modules
Conducive to a wide range of forming and converting techniques to fit complex shapes at a low cost

Gaskets and Sealing

Sealing devices are essential to maximize performance of an EV battery. Gasket and sealing solutions from The Gund Company provide numerous benefits.

Benefits

High-temperature silicone prevents degradation in higher the optimal temperatures
EMI Conductive elastomers provide shielding protection and seals a module or pack
Coextruded elastomers can serve two functions such as heat dissipation with high thermal conductivity, and high-temperature sealing
Charger Applications
The Gund Company specializes in insulation materials used in power supply, conversion, and distribution equipment. We manufacture materials and fabricate components used for inverters, rectifiers, and power supplies associated with DC and AC Electric Vehicle chargers.
Power Equipment Insulation

Power conversion equipment within a battery charger requires insulation to prevent static discharge between components. The Gund Company provides enclosure insulation and PCB liners to prevent this discharge.

Benefits

High dielectric strength to prevent breakdown
Thin gauges protect tight spaces
UL94-V0 flame rating

Sealing

Battery charging systems must withstand the outside elements daily. Sealing materials are essential to prevent moisture or debris from entering the charger leading to equipment failure.

Materials

Prevents moisture or debris from entering the charger
A wide selection of materials provides a perfect solution based on application requirements
Durable materials provide sealing for the duration of charger operation

Protection

The Gund Company manufactures and fabricates high-impact strength polycarbonate to protect components in a battery charger.

Benefits

High impact strength polycarbonate prevents damage from the elements or vandalism
Easy to clean and moisture resistant
Transparent to be used in front of display equipment or opaque for other areas

PolyPro FR® by The Gund Company is a UL Listed flame retardant polypropylene extruded in electric vehicle battery and charger applications. With performance in mind, PolyPro FR® is a low-cost solution.
– Module Covers
– BMS Insulation
– Battery Pack Liners
– Chassis Insulation


Manufactured in the United States, PolyPro FR® features exceptional dielectric strength, high chemical and moisture resistance, and an elevated temperature rating. These properties make it an ideal material in virtually any power insulation environment. PolyPro FR® is manufactured and converted in multiple methods to meet the unique requirements of our customers.