ITAR Compliance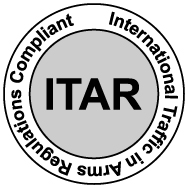 ITAR Statement
ITAR (International Traffic in Arms Regulations) and the EAR (Export Administration Regulations) are export control regulations run by different departments of the US Government. Both of them are designed to help ensure that defense-related technology does not get into the wrong hands. An export license is a general term for both ITAR and EAR-controlled items in which the US Government has granted permission to transport or sell potentially dangerous items to foreign countries or parties.
Appropriate marking and control of certain unclassified technical data dealing with military or space applications are necessary because foreign corporations and others acting on behalf of foreign governments may otherwise file requests for this information under the Freedom of Information Act.
The Gund Company Cage Code: 006V4
Federal law (15 USC 140c) allows the Secretary of Defense to withhold from public disclosure any technical data with military or space applications that are in the possession of — or under control of — the Department of Defense and that may not be exported lawfully without an approval, authorization or license under the Export Administration Regulations (EAR) or the International Traffic in Arms Regulations (ITAR). This does not apply to scientific, education, or other data that qualify for General License GTDA under the EAR. The rationale for this restriction is that public release may constitute an export. DoD Directive 5230.25, "Withholding Unclassified Technical Data From Public Disclosure," implements this law.
Contact Our Quality Personnel Today
The Gund Company consistently ranks as industry leaders in quality and on-time delivery.
To learn more about the metrics we use to grade our own performance, click here.
The Gund Company is a vertically integrated manufacturer and fabricator of engineered material solutions. We have been in business since 1951 and know what it takes to serve the demands of our customers' most demanding applications. The Gund Company is an ISO 9001:2015 Manufacturer. We are AS9100D Certified and ITAR Compliant. As a lean enterprise, we are focused on continuous improvement and finding the most cost-effective, efficient solutions for our customers.
Please let us know if we can help answer material property questions or provide an application-specific quote. Thanks in advance for the opportunity to earn your business.
ITAR Compliance