AS9100D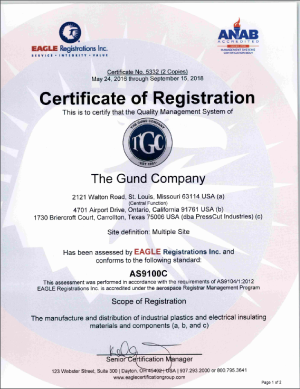 Click here To View Certificate
The Gund Company is committed to quality manufacturing at the highest levels for our aerospace customers. Our objectives are to comply with all requirements of the quality system, to ensure that our customers' expectations are met, and to continually improve the effectiveness of the quality system.
Our management team is committed to a high standard of customer satisfaction by making sure that this quality policy is communicated and understood within the organization and that it is reviewed for continuing suitability
AS9100 Certification
On May 24th, 2016 The Gund Company was certified to AS9100D standards. The external audit was conducted by our third party registrar. The audit highlighted The Gund Company's commitment to customer satisfaction and continual improvement and growth in all areas, including new products for aerospace customers.
Applying the principles behind the aerospace standard has helped us ensure consistency in our processes and products, and has helped us manage the implementation of process and product improvements.
Recertification audits are conducted every three years. All aspects of the Quality Management System (QMS) are audited. Surveillance audits are conducted annually until the next recertification audit event
Contact Our Quality Personnel Today
The Gund Company consistently ranks as industry leaders in quality and on-time delivery.
To learn more about the metrics we use to grade our own performance, click here.
The Gund Company's AS9100 Terms and Conditions to Suppliers
The Gund Company is a vertically integrated manufacturer and fabricator of engineered material solutions. We have been in business since 1951 and know what it takes to serve the demands of our customers' most demanding applications.The Gund Company is an ISO 9001:2015 Manufacturer. We are AS9100D Certified and ITAR Compliant. As a lean enterprise, we are focused on continuous improvement and finding the most cost-effective, efficient solutions for our customers.
Please let us know if we can help answer material property questions or provide an application specific quote. Thanks in advance for the opportunity to earn your business.