Kitting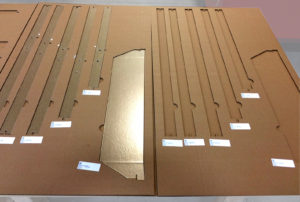 The Gund Company proudly offers full kitting services. We combine all essential parts for a specific piece or area of equipment. Our customers love the convenience and efficiency this offers for managing critical equipment applications. We can package all the components you need for your upcoming maintenance project, regularly scheduled maintenance program, or new construction into one convenient kit, so you have everything you need for your next project. Since 1951, we have listened to our customers and learned the critical nature of the equipment they utilize. So, we understand that downtime is not an option. Kits from The Gund Company are custom designed to fit your needs. Our industry leading engineering and customer service teams will work with you to design a kit that contains all the components you need.
The Gund Company consistently rank as industry leaders in quality and on-time delivery.
To learn more about the metrics we use to grade our own performance, click here.
In addition to the convenience of an all-inclusive kit, our kitting services help ease the inventory and purchasing management and increase efficiency and accuracy. Since The Gund Company is a vertically integrated manufacturer of both rigid and flexible materials, we can kit a wide range of materials to meet your specific application. Our kits include components for OEM and service providers. We can also include sourced components from other vendors, allowing you to consolidate suppliers.
The Gund Company offers kitting services for the following applications:
Transformer
Switchgear & Electronics
Generator
Motor
Electrometallurgical
Kitting components also offer the following benefits:
Reduce excess stock & save facility space
Improved productivity
Increased quality control
Cost savings
Vendor consolidation
The Gund Company is a vertically integrated manufacturer and fabricator of engineered material solutions. Since 1951, we have listened to our customers and learned about the demanding operating environments of their industries. We are AS9100D Certified and ITAR Compliant. Our custom fabricated parts are manufactured according to ISO 9001:2015 certified quality systems.
We understand the challenges of material selection and the demanding operating environment of your application. Our Application Engineering Team takes a consultative approach to understanding your requirements. By relying on our material specialists, our customers gain valuable insight into how to improve component designs to increase efficiency and functionality while reducing cost. In addition to helping with material selection, we challenge ourselves to optimize production for material yield or fabrication efficiency. As a lean enterprise, we are focused on continuous improvement and finding the most cost-effective, efficient solutions for our customers.
Please contact us today if we can help answer material property questions or provide an application specific quote. Thank you for the opportunity to earn your business.