Fabrication & Converting
The Gund Company is a vertically integrated manufacturer and fabricator of engineered material solutions. Many of which are key materials used in mechanical and electrical applications. Our focus regarding materials manufacturing lies in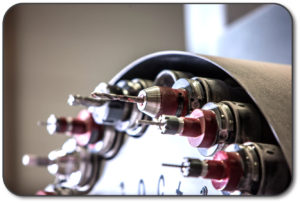 In addition to our comprehensive material offerings, we also offer a variety of fabrication and converting services. Once you've consulted with our team of engineers and have decided on the mechanical and electrical properties that meet your application requirements, our material specialists can consult on our full range of fabrication and converting capabilities to complete the design of your components. Our CNC machining and converting capability includes mills, routers, punches, saws, drills, brakes, waterjet, lathes, cutting, and more. The Gund Company also builds custom fabrication equipment to meet the requirements of the most demanding customer applications.
Our state of the art fabrication equipment and expert operations team can design and execute your custom parts with extremely tight tolerances. We have state of the art measurement equipment to verify quality and consistency of our processes. We also offer design to build and reverse engineering services in the event your engineering team needs additional consultative services. Our dynamic production scheduling system and industry leading responsiveness to customer requests allow us to optimize production scheduling to ensure our customers have their critical parts when they need them.
If you need fast turnaround on a custom component or prototype, please contact an application engineering specialist today!
The Gund Company is a vertically integrated manufacturer and fabricator of engineered material solutions. Since 1951, we have listened to our customers and learned about the demanding operating environments of their industries. We are AS9100D Certified and ITAR Compliant. Our custom fabricated parts are manufactured according to ISO 9001:2015 certified quality systems.
We understand the challenges of material selection and the demanding operating environment of your application. Our Application Engineering Team takes a consultative approach to understanding your requirements. By relying on our material specialists, our customers gain valuable insight into how to improve component designs to increase efficiency and functionality while reducing cost. In addition to helping with material selection, we challenge ourselves to optimize production for material yield or fabrication efficiency. As a lean enterprise, we are focused on continuous improvement and finding the most cost-effective, efficient solutions for our customers.
Please contact us today if we can help answer material property questions or provide an application specific quote. Thank you for the opportunity to earn your business.