Assembly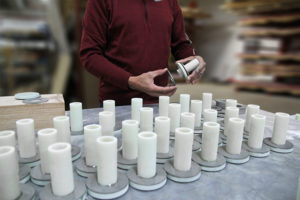 The Gund Company is a vertically integrated manufacturer and fabricator of engineered material solutions. Many times the parts we fabricate for our customers are intricate and require some assembly.
The Gund Company offers assembly services to help minimize cost, maintain quality control, and get the job finished on time. Our services allow customers to utilize The Gund Company's expert production staff to ensure the fabricated parts are ready for installation in your equipment.
Assembly services allow customers to save space and time by outsourcing the assembly of components so the fully assembled component can be delivered ready for installation.
The Gund Company consistently rank as industry leaders in quality and on-time delivery.
To learn more about the metrics we use to grade our own performance, click here.
Common Assembly Services Include
Bonding
Bolting
Riveting
Tapping
Dowel Pinning
Press Fitting
Assembly & Final Painting / Varnish
Lap Joint Bonding
Taping or Bonding
Laminating
Custom joining or other assembly services are available upon request.
Examples of Assembly Services Include
Assembly of arc chutes for circuit breakers
RFI shielding assemblies bonding conductor foil to insulation
Insulated copper studs for power generator applications
Fuse board assemblies for distribution
Adding connectors and contacts to terminal boards
Door panel assemblies for refrigerated or thermal applications
Installation of gaskets, seals, or o-rings
Lap joining long supports
Taping coil blocking together
Adding hardware components to your parts.
In many cases, The Gund Company can review bills of material and assembly drawings as part of our Application Engineering effort to identify opportunities for cost savings utilizing our assembly services.
Contact one of our application specialists to discuss your project or assembly requirements today!
The Gund Company is a vertically integrated manufacturer and fabricator of engineered material solutions. Since 1951, we have listened to our customers and learned about the demanding operating environments of their industries. We are AS9100D Certified and ITAR Compliant. Our custom fabricated parts are manufactured according to ISO 9001:2015 certified quality systems.
We understand the challenges of material selection and the demanding operating environment of your application. Our Application Engineering Team takes a consultative approach to understanding your requirements. By relying on our material specialists, our customers gain valuable insight into how to improve component designs to increase efficiency and functionality while reducing cost. In addition to helping with material selection, we challenge ourselves to optimize production for material yield or fabrication efficiency. As a lean enterprise, we are focused on continuous improvement and finding the most cost-effective, efficient solutions for our customers.
Please contact us today if we can help answer material property questions or provide an application specific quote. Thank you for the opportunity to earn your business.