Demand Outstripping Supply and Creating Shortages
For 70 years The Gund Company has delivered value to our customers through trusted performance. Our motto has always been, "satisfy the customer". Our integrated materials manufacturing and strategic sourcing allows us to keep our costs competitive. In the past three months, we have seen significant inflation on our key raw materials, including polypropylene, polyester, polycarbonate, epoxy, and fiberglass among others. Increases are ranging from 8% to over 20%. Many suppliers are citing capacity shortages as they ramp up production and in some cases, we are seeing force majeure on raw materials which is causing lead times to increase dramatically. Our top priority will be maintaining a stock of necessary raw materials in order to continue to provide the product our customers need when they need it.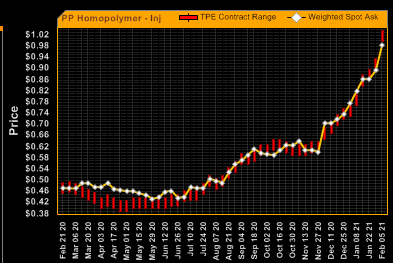 The Gund Company never takes these inflationary periods lightly. We are working hard to counter the situation in order to minimize the impact on our customers. Unfortunately, we cannot foresee a situation where we can completely reverse the increases already received and we need to update pricing to reflect the changes in raw material cost. 
We will be implementing a 5% increase effective on all orders shipping after April 1, 2021. Please adjust future POs to reflect this increase. If you have any questions or concerns regarding the effective date and how it will impact existing orders, please feel free to contact your sales or customer service representative directly.
Click here to view the original email.