2018 IEEE T&D Conference & Exposition

Visit The Gund Company in Booth 779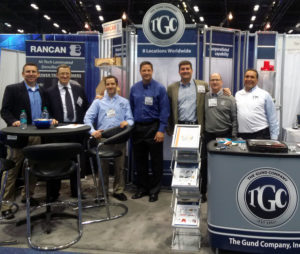 The Gund Company is a manufacturer and fabricator of engineered material solutions. These materials have many applications, including electrical insulation for power generation equipment. If you work with power transformers, low and medium switchgear, or power electronics we'd love to meet.
Our exhibit in Booth 779 at IEEE T&D 2018, will showcase a variety of high and low pressure laminate materials are ideal for insulating this equipment. Our Design to Cost Engineers will be on hand to review a variety of cost-reduction initiatites.
We encourage you to schedule some time with our Application Engineering Tem so you can review your drawings, discuss material options, and cost-reduction opportunities.
Please fill out the form to the right to schedule time at the 2018 IEEE T&D Conference
.

Learn More About Our Applications
Request An Onsite Lunch & Learn Event
Please complete the form below and we will be in contact with you to discuss your request!
The Gund Company is a vertically integrated manufacturer and fabricator of engineered material solutions. Since 1951, we have listened to our customers and learned about the demanding operating environments of their industries. We are AS9100D Certified and ITAR Compliant. Our custom fabricated parts are manufactured according to ISO 9001:2015 certified quality systems.
We understand the challenges of material selection and the demanding operating environment of your application. Our Application Engineering Team takes a consultative approach to understanding your requirements. By relying on our material specialists, our customers gain valuable insight into how to improve component designs to increase efficiency and functionality while reducing cost. In addition to helping with material selection, we challenge ourselves to optimize production for material yield or fabrication efficiency. As a lean enterprise, we are focused on continuous improvement and finding the most cost-effective, efficient solutions for our customers.
Please contact us today if we can help answer material property questions or provide an application specific quote. Thank you for the opportunity to earn your business.