COVID-19 Personal Protection Equipment
The Gund Company is committed to do its part in the preventing the spread of the coronavirus. Our team has mobilized to develop several product offerings based on our current expertise in materials and custom fabrication. Here are a few examples of the products we are capable of producing.
Personal Face Shields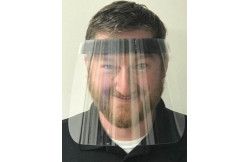 Our face shield features a transparent plastic shield for service protection and a foam band that goes around the forehead for shield attachment. An elastic band is fit to secure the face shield in place.
A message from our President
Intubation Box Shields

The Gund Company can custom fabricate intubation boxes to protect doctors from contaminants during the intubation process. The box is placed over the head and torso of the patient lying face-up. This shield prevents expelled pathogens from landing on other healthcare workers or other parts of the room.
Transportation Partitions
The Gund Company specializes in transparent Polycarbonate protection for electrical equipment and sight windows in the electrical industry. In response to the Coronavirus, we have pivoted to create protection for those who are more susceptible to exposure. Public transportation is a necessary part of our community and is required to stay operational. To protect these individuals, our partitions are custom fabricated to meet the dimensions required by any application.
Check-out Counter Partitions
Many grocery and retail chains remain open. Cashiers and other service employees are especially prone to exposure. To help mitigate the transmission of the virus, we have created barriers that can be used to protect these employees. Our hygienic partitions are custom fabricated out of a thin, lightweight, easy to clean polycarbonate material that is easy to install. We can machine the material to any shape and size to meet the needs of our customers.
Sneeze Guards/Countertop Pass-Through Shield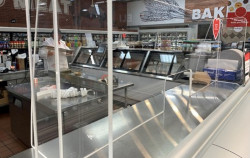 The Gund Company can custom fabricate sneeze guards and countertop pass-through shields that will protect customers' products from outside contaminants. This material is lightweight, easy to clean, and easy to install and comes in a variety of sizes to meet your application.
The Gund Company is a vertically integrated manufacturer and fabricator of engineered material solutions. Since 1951, we have listened to our customers and learned about the demanding operating environments of their industries. We are AS9100D Certified and ITAR Compliant. Our custom fabricated parts are manufactured according to ISO 9001:2015 certified quality systems.
We understand the challenges of material selection and the demanding operating environment of your application. Our Application Engineering Team takes a consultative approach to understanding your requirements. By relying on our material specialists, our customers gain valuable insight into how to improve component designs to increase efficiency and functionality while reducing cost. In addition to helping with material selection, we challenge ourselves to optimize production for material yield or fabrication efficiency. As a lean enterprise, we are focused on continuous improvement and finding the most cost-effective, efficient solutions for our customers.
Please contact us today if we can help answer material property questions or provide an application specific quote. Thank you for the opportunity to earn your business.